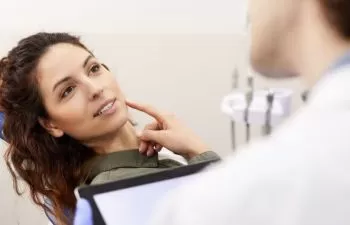 Your teeth are the hardest substance in your entire body. Unfortunately, they are not invincible. Healthy teeth are subject to break, chip or crack under certain pressures. Regardless of whether your cracked tooth is noticeable or painful, a skilled restorative dentist should be your next call. When it comes to fixing a damaged tooth, you can trust Barrera Advanced Dentistry to restore its health, function and aesthetics with the best that modern dentistry has to offer.
What Does a Cracked Tooth Feel Like?
Unless you have a large tooth fracture, your cracked tooth may not produce any symptoms or you may only have pain when chewing. However, a cracked tooth always needs professional attention, regardless of whether or not you are experiencing discomfort. The crack is an indication that the tooth is no longer protected like it once was. Untreated tooth cracks can lead to worsening fractures and painful infections.
Ways to Repairs to Cracked/Chipped Teeth
In the majority of cases, we can fix your cracked or chipped tooth with simple dental bonding. This is ideal for patients who need minor repairs on the enamel (outer layer) of their tooth. Our dental bonding is a tooth-colored composite resin material, which is quickly applied and gives natural and long-lasting results.
For patients who have more extensive tooth damage, a root canal and/or dental crown may be suggested in order to address a potential infection and fully restore the form and integrity of the tooth. In other cases, porcelain veneers may be used for larger tooth cracks that are on the front, more visible teeth. Our dentist will determine which restorative treatment plan is most appropriate for you based on your specific situation.
Schedule Cracked Tooth Repair in Torrance
During cracked tooth repair at Barrera Advanced Dentistry, your comfort comes first. Our office features modern patient amenities, a friendly staff and the latest technology for gentle dentistry. We also offer options in sedation dentistry to ensure your visit is as painless as possible. If you have recently cracked a tooth, don't ignore it. Call our Torrance dental clinic sooner rather than later to prevent disruptive pain and costly complications.
Posted on behalf of Barrera Advanced Dentistry