Dental Implants in Torrance, CA
$1,000 OFF All-on-4 Implants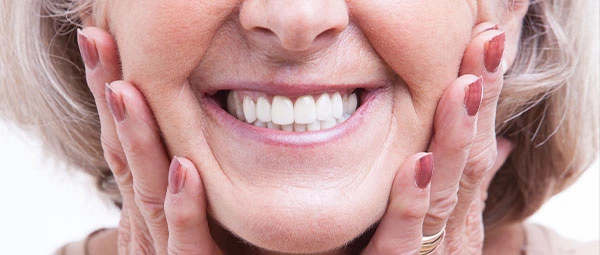 Looking for a lasting, lifestyle-friendly solution to missing teeth? All-On-4 dental implants are known to provide quick, effective restoration for smiles suffering from tooth loss. Take $1000 off your All-On-4 dental implants when you schedule implant placement on the same day as your appointment!
To keep your teeth and gums healthy, attractive, and functional for life, it's important to address any gaps in your smile due to tooth loss or dental extractions. At Barrera Advanced Dentistry, we specialize in restoring the smiles of patients suffering from tooth loss. Whether you are missing one tooth, a full set of teeth, or are facing multiple dental extractions, we offer the top dental implant services near Torrance, CA and beyond!
How Do Dental Implants Work?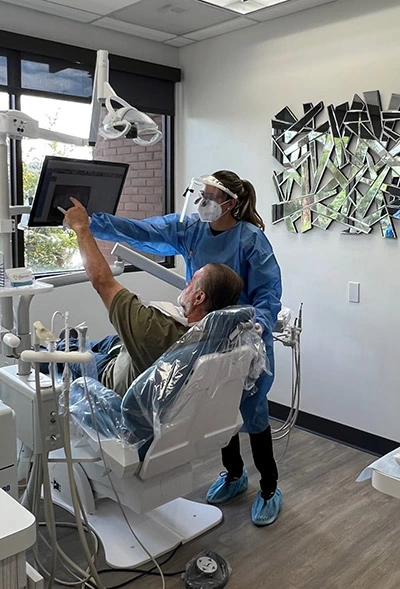 Dental implants are long-lasting, natural-looking restorations designed using titanium posts implanted into the jawbone where dental implants can then be attached.
With such a secure fit, dental implants do not require any special adhesives and there are no restrictions on what foods the patient can eat. Whether you're missing one tooth or several teeth, dental implants are a great solution for restoring the aesthetic appearance and functionality of the smile. As an added bonus, they stimulate growth in the jaw bone, making them the healthiest tooth replacement option available today!
What Type Of Dental Implant Do I Need?
To meet the needs of each patient, we offer numerous dental implant options including the following systems:
Single Dental Implants

Implant-Retained Bridges

All-on-4®

Implant-Retained Overdentures

Hybrid Dental Implants
Single Dental Implant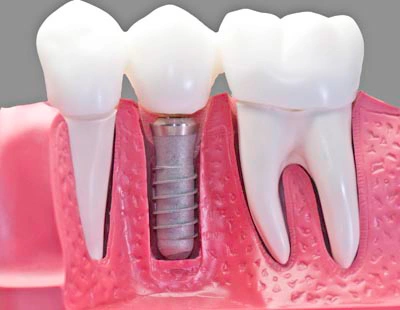 A single tooth implant is designed to replace the missing tooth, as well as its root. Yours will be sealed with a custom-shaded dental crown that perfectly matches the rest of your smile.
All-on-4® Dental Implants
Are you tired of having to deal with traditional removable dentures that fall out, or require you to modify your diet and lifestyle? If that sounds familiar, then choose All-On-4 implant dentures for a long-lasting solution to a new, complete set of teeth.

This system works by placing four titanium implants into the patient's upper or lower arch, securing them stronger than traditional implants since they are integrated into the jawbone and attached to custom dentures. All-On-4 dental implants appear natural and realistic because they are custom-crafted for each individual's comfort and fit!
Overdentures and Implant-Retained Overdentures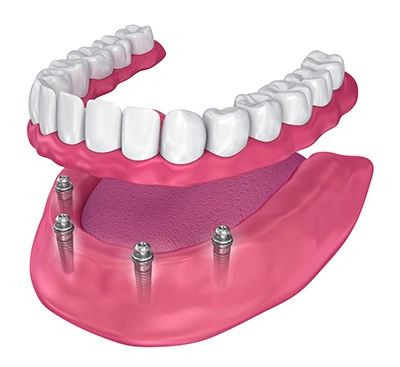 Overdentures are partial or full dentures that sit atop dental implants for a healthier, more stable fit. Implant-retained dentures are proven to be a healthier alternative to traditional dentures as their ultra-snug fit promotes healthy bone retention. Similar to traditional dentures, they are removable and require daily care.
Hybrid Implant Dentures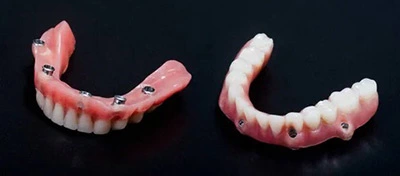 If you have suffered widespread tooth loss and are concerned about the price of conventional full mouth dental implants, hybrid dental implants could be the tooth replacement solution for you! Dr. Barrera permanently affixes dentures using dental implants with this system to restore a natural-looking, full smile for her patients.
Dr. Andres Torres, DDS, MSD
For more complicated implant placements, Dr. Barrera invites in her accomplished colleague Dr. Torres to assist. With his education and training at Indiana University and Loma Linda University, his credentials in prosthodontics, and his extensive clinical experience, he's able to provide All-on-4 implant placement and the surgical procedures associated with them.
How Much Do Dental Implants Cost?
Your out-of-pocket dental implant costs will be affected by your dental insurance plan. Fortunately, Barrera Advanced Dentistry is in-network with many major dental insurance carriers. We also file claims with all PPOs!
Don't have dental insurance? If you need additional help financing your dental implants, we accept most major credit cards or financing options through CareCredit® or Sunbit.
Questions? Call today to speak with our friendly patient coordinator!
Schedule Your Dental Implant Consultation With Barrera Advanced Dentistry Today!
You deserve to restore your complete, beautiful smile! Contact Barrera Advanced Dentistry today to schedule your consultation.
Before & After: