Preventive Care & Dental Cleanings in Torrance, CA
Barrera Advanced Dentistry is lucky to have an experienced dentist who can provide a wide range of cosmetic and restorative smile treatments — but at the core of our practice is quality prevention. We offer the very best preventive care and dental cleanings near Torrance, CA because we keep you healthy in between appointments, delivering personalized treatment using some of the most advanced technologies available!
With our digital x-rays, 3D CBCT scanner, and intraoral cameras, we're able to spot potential issues before they get the chance to develop into more serious problems.
We offer the following preventive care services at our Torrance, CA dental office:
Professional Teeth Cleanings (Prophylaxis)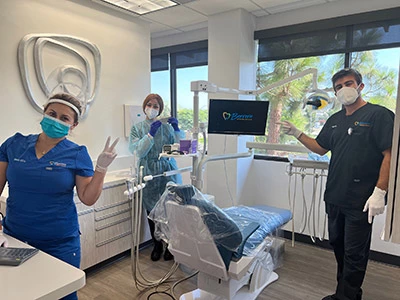 To keep your teeth healthy in between appointments, Dr. Barrera recommends that all patients receive dental cleanings at least twice a year to prevent disease and other oral health issues from arising. We treat each patient on an individual basis, so depending on the current state of your oral health, she may recommend more frequent, targeted cleanings.
For dental cleanings, our team uses the latest dental tools to provide rapid, comfortable care, eradicating plaque along the way. Next, they will polish the teeth to help remove stains and discoloration. In some instances, we may recommend an additional mineral treatment to help strengthen the teeth even further, or halitosis treatment for those who suffer from consistently unpleasant breath.
Night Guards For TMJ Pain
Do you grind your teeth (bruxism) while you sleep? If you do, it could lead to headaches, TMJ, and uneven tooth wear–all of which can have a negative impact on your health and quality of life. To correct the problem and preserve your healthy teeth, Dr. Barrera offers custom-made night guards that fit comfortably for every patient.
Mouthguards For Athletics
We recommend staying active to help preserve your total body health, and athletics can be an excellent way to do so. If you are involved in any type of sports, it's important that you protect your smile! One of your best pieces of insurance against oral trauma is a simple athletic mouthguard. Our mouthguards are customized to each and every patient, providing superior protection of the teeth and even further protection against concussions.
Desensitizing Treatments For Sensitive Teeth
If you are sensitive to hot and cold, and you find yourself avoiding certain foods or drinks as a result, then our team has a solution for you! After ruling out anything serious, Dr. Barrera will apply a special paste designed to minimize your sensitivity for months. She'll also help you understand how to help keep your teeth from becoming sensitive in between your regular appointments.
Top Preventive Care & Dental Cleanings In Torrance, CA
Has it been a while since your last trip to the dentist? Our teeth cleanings are designed to keep your smile healthy for life!
Contact our office today to schedule your dental cleaning or preventive care appointment.
Before & After: