Our Dental Technology at Barrera Advanced Dentistry
At Barrera Advanced Dentistry, we're committed to delivering the best treatment outcomes while providing positive patient experiences. We continually invest in our tools, treatments, and procedures to continue offering high-end dental services to serve our patients in Torrance, CA and beyond!
By utilizing some of the best dental technologies available, we proudly cultivate a top-notch experience for our patients. Our office is one of the most technologically advanced in the state of California!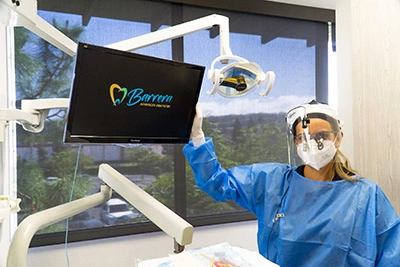 In recent years, advancements in dental technology have made nearly every dental treatment more effective and generally more affordable. With our precision diagnostics and treatment technologies, we're able to be more efficient, which means you can receive your dental treatments faster at Barrera Advanced Dentistry!
Digital X-Rays
X-rays are a dental technology that we use to help increase accurate diagnosis as well as clinical safety for our patients. At Barrera Advanced Dentistry, we use digital x-ray technology to expose patients to less radiation, to make x-rays quick and comfortable, and to allow Dr. Barrera to have access to your x-ray images immediately.
Intraoral Camera
X-rays can be an excellent way to help diagnose oral health problems, but an intraoral camera takes it a step further. At Barrera Advanced Dentistry, we use our intraoral camera to examine areas of the mouths that x-rays can't show. We also use it to take initial photos for new patients, as well as before and after pictures for each procedure because it's important to us that you're able to see the results we give you.
3D Cone Beam Computed Tomography (CBCT)
3D cone beam computed tomography (CBCT) is an oral scanner technology that allows Dr. Barrera to have a more complete view of your mouth, including your teeth, gums, jawbone structure, nerve pathways, and soft tissue. This technology allows us to spot oral health concerns that wouldn't otherwise be visible through traditional x-rays or camera images.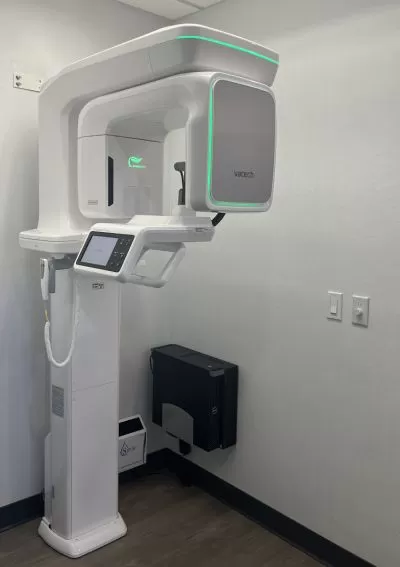 Dexis 3800W Intraoral Scanner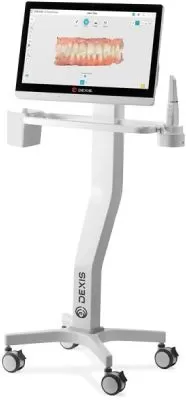 The Dexis 3800W Intraoral Scanner is a cutting-edge dental technology that revolutionizes the way dental professionals capture and analyze oral images. With its advanced capabilities, this state-of-the-art scanner provides an unparalleled level of precision and efficiency in dental procedures. By utilizing high-resolution 3D imaging, the Dexis 3800W allows Dr. Barrera to obtain detailed and accurate representations of a patient's teeth and oral structures, enabling her to make precise diagnoses and develop tailored treatment plans. Its ergonomic design ensures patient comfort, while its fast scanning speed reduces chair time, leading to a more streamlined dental experience. The Dexis 3800W Intraoral Scanner is also known for its intuitive software, which allows for seamless integration with existing digital systems, enhancing communication and collaboration among dental professionals. With its exceptional capabilities, the Dexis 3800W Intraoral Scanner is a valuable asset at Barrera Advanced Dentistry, revolutionizing the way oral health is assessed and treated.
BlueWave Soft Tissue Diode Laser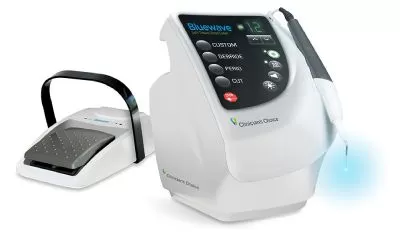 The BlueWave Soft Tissue Diode Laser is an advanced dental instrument that has transformed the field of soft tissue management. This state-of-the-art laser technology offers a wide range of capabilities, making it a valuable tool for Dr. Barrera. With its precise and minimally invasive approach, the BlueWave laser enables dental professionals to perform a variety of soft tissue procedures with exceptional accuracy and control. From gum contouring and frenectomies to crown lengthening and pocket disinfection, the BlueWave laser delivers targeted energy to the specific areas, resulting in reduced bleeding, improved healing, and minimal discomfort for patients. Its wavelength and power settings can be easily adjusted, allowing for customization according to the specific treatment requirements. Furthermore, the BlueWave Soft Tissue Diode Laser promotes a sterile environment, as it effectively sterilizes the treatment area, reducing the risk of infection. With its cutting-edge capabilities, the BlueWave Soft Tissue Diode Laser empowers Barrera Advanced Dentistry to provide efficient and precise soft tissue treatments, enhancing patient outcomes and overall satisfaction.
Ready to experience the latest dental technology in a relaxing atmosphere? Contact Barrera Advanced Dentistry today to schedule your appointment!