Our Dental Technology at Barrera Advanced Dentistry
At Barrera Advanced Dentistry, we're committed to delivering the best treatment outcomes while providing positive patient experiences. We continually invest in our tools, treatments, and procedures to continue offering high-end dental services to serve our patients in Torrance, CA and beyond!
By utilizing some of the best dental technologies available, we proudly cultivate a top-notch experience for our patients. Our office is one of the most technologically advanced in the state of California!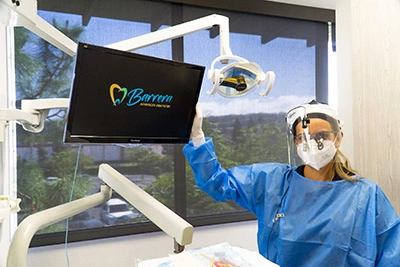 In recent years, advancements in dental technology have made nearly every dental treatment more effective and generally more affordable. With our precision diagnostics and treatment technologies, we're able to be more efficient, which means you can receive your dental treatments faster at Barrera Advanced Dentistry!
Digital X-Rays
X-rays are a dental technology that we use to help increase accurate diagnosis as well as clinical safety for our patients. At Barrera Advanced Dentistry, we use digital x-ray technology to expose patients to less radiation, to make x-rays quick and comfortable, and to allow Dr. Barrera to have access to your x-ray images immediately.
Intraoral Camera
X-rays can be an excellent way to help diagnose oral health problems, but an intraoral camera takes it a step further. At Barrera Advanced Dentistry, we use our intraoral camera to examine areas of the mouths that x-rays can't show. We also use it to take initial photos for new patients, as well as before and after pictures for each procedure because it's important to us that you're able to see the results we give you.
3D Cone Beam Computed Tomography (CBCT)
3D cone beam computed tomography (CBCT) is an oral scanner technology that allows Dr. Barrera to have a more complete view of your mouth, including your teeth, gums, jawbone structure, nerve pathways, and soft tissue. This technology allows us to spot oral health concerns that wouldn't otherwise be visible through traditional x-rays or camera images.
Ready to experience the latest dental technology in a relaxing atmosphere? Contact Barrera Advanced Dentistry today to schedule your appointment!