Adriana Barrera, DDS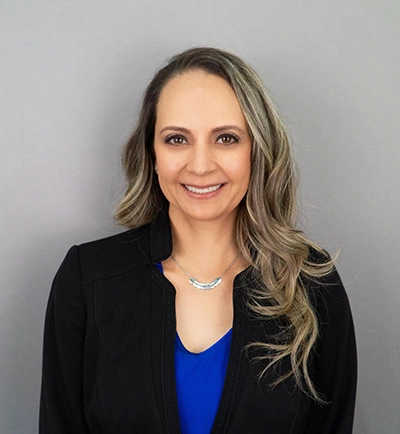 Dr. Adriana Barrera has more than 20 years of experience providing comprehensive dental care to countless patients and families. Now in private practice, Dr. Barrera is proud to be the dentist of choice for many patients in the South Bay, California area.
A native of Colombia, Dr. Barrera's educational path began at Pontifical Xavierian University in Bogota, Colombia. She earned her Doctor of Dental Science in 1994, then went on to complete a residency in Prosthodontics. After her training, Dr. Barrera went to work as a dentist for the National Police Health Department and returned to her alma mater as an associate professor in the dental program.
Dentistry is a family affair for Dr. Barrera, who follows in the footsteps of her grandfather and aunt. In fact, she went into practice with her family and served her community for 10 years before emigrating to the United States.
Dr. Barrera earned her California dental license in 2002 and has provided top quality dental care in the Los Angeles and South Bay area ever since.
She has continually strived to further her skills in surgical and restorative implant dentistry by attending the Loma Linda University & AAID (American Association of Implant Dentistry) Implant Maxicourse, the Nobel Biocare Implant Mini Residency program and the UCLA School of Dentistry Periodontal Surgery Hands-on Workshop. And to further hone her skills in Restorative and Cosmetic Dentistry, Dr. Barrera has also completed extensive training courses at UCLA to master anterior and posterior Composite Restorations as well as all porcelain Veneers, Onlays and Crowns.
Even though Dr. Barrera earned a Prosthodontics degree in her native country of Colombia in 2000, she enjoys and works on all areas of Dentistry, from preventive care, dental emergencies, restorative and cosmetic dentistry, dental and implant surgery, all the way to full mouth reconstruction and extensive oral rehabilitation treatments.
She is an active member of the American Dental Association, California Dental Association, American Academy of Implant Dentistry and the Western Los Angeles Dental Society.
When not at work, Dr. Barrera enjoys spending time with friends, family, and especially her husband and 13-year-old son. She also enjoys traveling and swimming, and she loves living in the South Bay area and being part of this sunny community.
Andres Torres, DDS, MSD
Dr. Torres holds a Master's degree in Science Dentistry (MSD) and is certified as a prosthodontist. He has over 20 years experience in the field, performing advanced restorative and implant dentistry procedures.
He trained at Indiana University and Loma Linda University, receiving his credentials in prosthodontics. His academic accomplishments resulted in a position as an assistant professor of restorative dentistry at Loma Linda University.
Dr. Torres uses his education, experience, and expertise to assist Dr. Barrera with various oral surgeries at her private practice, Barrera Advanced Dentistry.
In his free time, Dr. Torres enjoys spending time with his son Diego, playing golf, bicycling, and traveling.
Get Advanced Dental Care From Experienced Clinicians
If you are looking for dentists who are skilled in the latest treatment technology and who put your comfort and needs first, call Barrera Advanced Dentistry today!