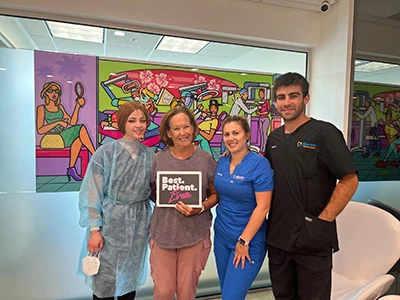 Our patients are our number one priority! Check out what they have to say about their experiences at Barrera Advanced Dentistry and if you have any questions, please
call our office
and we will be happy to assist you.
Aileen G.

Great office experience. They were very thorough which made me feel safe and taken care off. I usually dread dental visits but here I felt comfortable. Consultation was on point and 100% honest. I had no idea I had a hole in my molar tooth which my previous dentist had never mentioned about. Dr. Barrera was very gentle on inspecting each teeth. Would really recommend to my family and friends.
Sofia M.

Exceptional place for dental needs. Every single person here is so friendly and helpful. Dr. Barrera is highly skilled. I was at another dental office for a few years until I felt like they were recommending major work that I likely didn't need. This doesn't happen here - Dr Barrera is honest and upfront about what is needed and doesn't do a sales pitch at every visit which is so refreshing. I've recommended this practice to others and will continue to do so!
Ashley B.

Literally everybody at this office was fantastic! Dr. Barrera (dentist), Stephanie (dental hygienist), Rikki (X-ray tech) and Patricia (front office manager), were efficient, friendly, and accommodating. This office is one of a kind! I come from Corona and, obviously, have many other options for dental offices, but I choose to drive out to this office in Torrance. That alone speaks volumes of the sort of quality my family and I receive here. I am grateful that I discovered this office. It's definitely a keeper!
Chelsey S.

My family and I have been coming to Dr. Barrera for over 5 years; I would definitely recommend coming here.
The whole team is patient and I feel comfortable knowing I can ask questions and get detailed answers.
Also, The location is so great, right in the heart of the South Bay!
Christine S.

Dental hygienist was very nice and pleasant, she explained everything she was going to do as this was my first deep cleaning. Office personnel are helpful and sweet as well.
JanisMarla R.

This is the best dental office I have ever been to. The staff is so friendly and helpful and the office is beautiful, clean and calming. Dr. Barrera is friendly and competent. They even called me the day after my procedure to make sure I was ok. Now that has never happened with any other dental office I have been to. I will definitely go back and I feel very lucky to have found Dr. Barrera. I would give them 10 stars if I could!!!
Gisela E.

1st time here was such a pleasant experience. Everyone was so kind, Dr. Was very gentle and patient. They were very understanding of my anxiety that Comes while being at any dentist office. Everything was explained to me in its entirety with no rush. I am excited for the continuous relationship with the office & think I have found a new permanent dentist at last.
Steve F.

Doctor Barrera is great, and she has a very excellent staff. This was my first visit, and Dr. Barrera will be my dentist from now on. Also, the office is very high-tech! Thank you Barrera Advanced Dentistry!
Brian P.

Great staff, very knowledgeable and friendly. Dr. explained everything and was very thorough. The dental hygienist was great, made sure I was ok and comfortable through the whole process.
Simone M.

I was in search of a new dentist to help with some extensive work I know needed to be done and my friend referred me to Dr. Barrera. The environment, along with the staff, is professional.
The process of a first visit was simple and efficient. Prior to the visit all New Patient Forms are handled online, which can be done in the comfort of your home or on the go, making the process simple yet efficient.
The initial visit went well and Dr. Barrera went over a treatment plan.
Marilyn A.

The staff are all extremely personable! Dr Barrera is very gentle and very professional! I have been with this office for over 25 years! Great office!