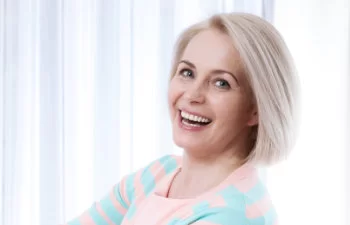 Are you scheduled to get dental implants? Congratulations, you've selected the gold standard solution in teeth replacement. However, you still may have questions about this restorative dentistry treatment. At Barrera Advanced Dentistry, we love helping patients understand why dental implants are superior as well as learn what to expect during the implant process.
FAQ's on Implant Dentistry
Compared to traditional dentures or bridges, dental implants can offer unrivaled benefits in terms of aesthetics, function and comfort. Here are some answers to common questions regarding implant dentistry to help you feel more confident in your decision to undergo this form of teeth replacement:
What is the main difference between dental implants and dentures?
Dental implants and removable dentures have a distinct structural difference. Implants are secured within your jawbone and can replace both your tooth root and your tooth. Dentures, however, rest on the gum line and only replace your teeth. This creates notable advantages for patients who choose dental implants.
How are dental implants placed?
Patients will have a preparatory appointment to get detailed assessments and measurements of your jaw and teeth structure. This may include specialized x-rays, a study of your mouth model and CT scans. The dental implants procedure itself is usually divided into a three-step process which involves implanting the titanium posts into your jaw, and waiting for them to heal and fuse to your bone. Protective screws are replaced with metallic healing caps before your final dental implants are put into place. The entire dental implant process may take up to 6 months or more for traditional dental implants. All-on-4 implants can offer an expedited treatment time.
Will I have limitations or restrictions with dental implants?
Unlike dentures, dental implants are highly durable and do not require restrictions or limitations in eating or drinking. They can also be cared for just like your natural teeth (no special cleaning products or adhesive creams).
Am I a candidate for dental implants?
Most patients qualify for dental implants. Since the success of dental implants relies heavily on the healing process within your bone and tissues, it is important for patients to be in good overall health and have adequate jawbone density. Heavy smokers and those with heart disease or diabetes should to be evaluated first.
Experienced Implant Dentist in Torrance
Barrera Advanced Dentistry is committed to delivering the best in implant dentistry. Our Torrance dental team proudly offers some of the latest dental implant systems, including Single Dental Implants, Implant-Retained Bridges, All-on-4®, Overdentures and Hybrid Dental Implants. Call today to schedule your consult.
Posted on behalf of Barrera Advanced Dentistry