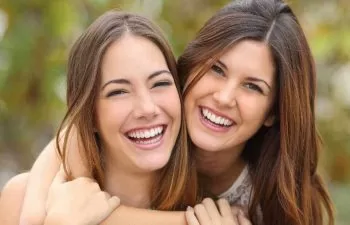 While the name may throw you off, laser crown lengthening is a procedure that doesn't involve adjustments to your teeth at all. Rather, it can be considered as a Surgical Gingival Recontouring using advanced dental lasers. Crown lengthening is a unique cosmetic dental treatment that can be performed for a variety of reasons, ranging from smile design to dental rehabilitation. And thanks to lasers, crown lengthening is gentler and easier than ever.
The laser crown lengthening process involves reshaping or "contouring" your gingiva (gum tissues) around your tooth so that it exposes more of the "crown" that's normally above your gums.
Aesthetic Crown Lengthening
Cosmetic crown lengthening help your tooth look larger. If teeth appear short or you have a "gummy smile", reducing the height of your gingiva can help your teeth look more appealing. The treatment can be completed in one day with practically no post-operative discomfort.
Restorative Crown Lengthening
Let's say you have a tooth that needs to be restored with a dental crown (cap,) but it's too worn down or short. By exposing some of the root, the anatomical crown can be enlarged so that there's room to fit a restorative crown on top of it. Otherwise, the tooth would probably have to be extracted.
Therapeutic Crown Lengthening
Gum disease is an infection that destroys the attachment between your gum tissues and tooth roots, creating deep pockets under the gingiva. Deeper pockets are more challenging to clean. Crown lengthening reduces pocket depth, making home care and maintenance easier.
The Benefits of Laser Dentistry
Crown lengthening or gingival recontouring with a dental laser provides gentle, minimally-invasive treatment options that are accurate and predictable. As a result, there's less irritation, swelling and bleeding. Treating your gums with a laser is one of the best ways to keep your gums beautiful and healthy.
To learn more about gingival recontouring or other cosmetic dental procedures in Torrance, contact Barrera Advanced Dentistry.
Posted on behalf of Barrera Advanced Dentistry