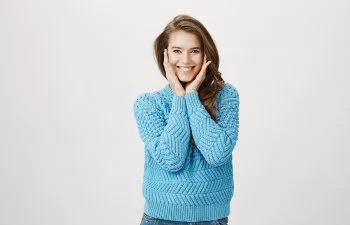 If you have perfect teeth, you probably consider them as one of your greatest assets. Having a beautiful smile can make a powerful first impression, improve your overall appearance and even make you look younger than you really are. Unfortunately, few of us were born with naturally perfect teeth – but that doesn't mean you can't have the smile you've always wanted now. Barrera Advanced Dentistry proudly offers a full menu of cosmetic dental services, including the top three most sought-after procedures.
Cosmetic dentistry can alter the size, shape and color of your teeth. Best of all, modern cosmetic dental services can do it in a way that looks natural. According to American Academy of Cosmetic Dentistry President Dr. James Hastings, "People want to look like they were born with their smile, not like they have purchased it. These procedures are among the easiest and most effective ways to conservatively restore and enhance one's smile."
Top 3 Cosmetic Dental Procedures
Here is a look at the cosmetic dental procedures that continue to climb the charts in popularity
Teeth Whitening
An easy, quick and painless way to rejuvenate your smile. Barrera Advanced Dentistry offers both Opalescence® and Philips Zoom! as two of the most effective and valued treatments in professional teeth whitening. We can remove stubborn tooth stains and lighten your smile by several shades in most cases.
Porcelain Veneers
Veneers are a highly versatile and very popular way to transform your smile appearance. These wafer-thin shells of porcelain are bonded to the front surface of your teeth, where they can cover up gaps, chips and stains as well as change the size and shape of your teeth.
Tooth Bonding
Bonding involves the use of composite resin, a tooth-colored material that is painted on in layers to the affect tooth or teeth. When bonding is used cosmetically, it can correct small gaps and chips in just a brief office visit. In most cases, sedation dentistry or anesthetics can be avoided.
Not Just About Looks
Well-aligned and properly proportioned teeth are not just about aesthetics, an attractive smile can also benefit your dental health and overall health in the following ways:
Better digestion
Easy-to-clean teeth
Healthier teeth and gums
Less head and neck pain
Better and clear speech
Less wear and tear on the teeth
At Barrera Advanced Dentistry, we are proud to have experienced dentists who embrace the art and science of cosmetic dentistry. We take the time to listen to your personal goals and create a natural-looking smile that you can be proud of. To learn more about popular cosmetic dentistry procedures such as teeth whitening, porcelain veneers and dental bonding, please call our Torrance, CA office. Your smile is worth investing in!
Posted on behalf of Barrera Advanced Dentistry